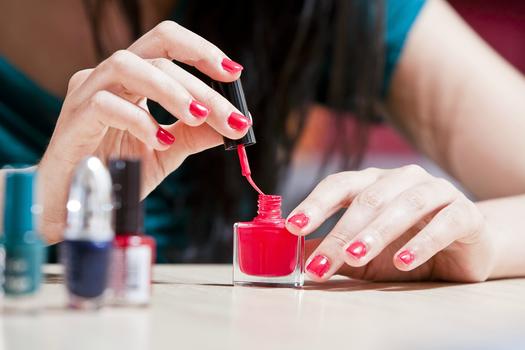 Wear Gloves When Washing the Dishes
You probably can't bow out of household chores entirely (a girl can dream!), but if you're exposing your hands to water for long periods of time, like when you're tackling a sink full of dishes, throw on a pair of rubber gloves first. Fingernails absorb water even better than your skin does, says Stern. And while that sounds like a good thing, it's really not. "When water is constantly moving in and out of the nail, it puts a tremendous strain on the delicate nail cells," she explains. Too much water contact can result in soft, weak nails that are susceptible to breakage.
Polish to Protect
Layers of nail polish help protect the fingernail and hold nail cells together, but Stern recommends a five-free formula that avoids dibutyl phthalate, toluene, formaldehyde, camphor, and formaldehyde resin chemicals. And whatever you do, don't skip the base coat and topcoat—they provide two additional layers of protection that you don't want to miss out on.