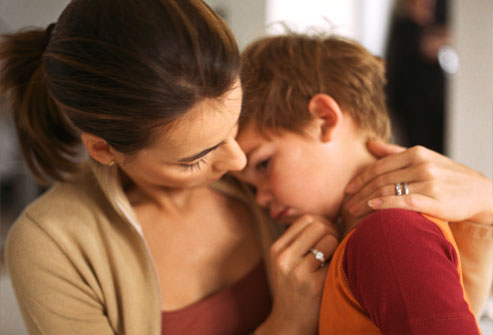 Nausea and Vomiting: What's Wrong?
Your child's nausea has turned to vomiting, and you want to help him fast. Luckily, bouts of vomiting in kids aren't usually harmful, and they pass quickly. Common causes are stomach viruses and sometimes food poisoning. Check in with your doctor if your child is less than 12 weeks old, acts sick, or if you are worried.
Signs of Dehydration
One of the best things you can do is watch for dehydration. Kids get dehydrated more quickly than adults. Watch your child for: acting tired or cranky, dry mouth, fewer tears when crying, cool skin, sunken-looking eyes, not urinating as often as normal, and when he does go, not peeing very much or urine that is darker yellow.
Treating Dehydration
To prevent and relieve dehydration, try to get your child to drink in very small amounts. Even if vomiting continues, she's still absorbing some of what you give her. Try ice chips, sips of water, sports drinks, or oral rehydration solutions like CeraLyte, Enfalyte, or Pedialyte. After she vomits, start with a small amount: a few tablespoons every few minutes. Over time, give her more as she is able to hold it down. Make sure she urinates regularly.
What About Flat Soda?
For many years, parents used flat lemon/lime soda and ginger ale to help kids replace fluids, and many doctors still recommend those. But research has begun to show that oral rehydration solutions are better for kids. These drinks offer the right amounts of sugar and salt. An alternative can be a sports drink mixed with an equal amount of water.
Liquid Diet
When it's been several hours since your child last vomited, you can begin a clear liquid diet beyond just water, electrolyte drinks, or oral rehydration solutions. Stick with liquids you can see through. They are easier to digest, yet they offer nutrients to give your child energy. Think clear broth, cranberry juice, apple juice. Popsicles and Jell-O can work well, too.