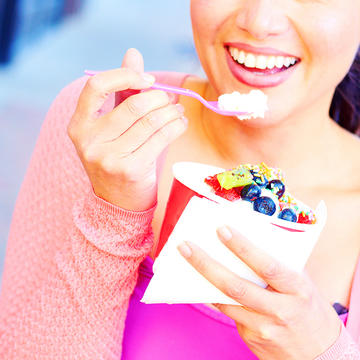 If you haven't given a second thought (or even a first thought) to your gut bacteria (a.k.a. microbiota), the time is now. Your gut plays an important role in immunity, and the bacteria it houses are the stars of the show. The foods you eat can change the makeup of your gut bacteria very quickly after you eat them—for better or for worse. Colorful fruits and vegetables and other plant-based foods help the 'good' bacteria flourish. A recent study from the University of Connecticut found that male mice who ate the human equivalent of 1 ounce of walnuts per day were able to create more diverse gut bacteria. The researchers say they believe there's a connection to these changes in gut bacteria and a reduced risk of colon cancer also noticed in these male mice. " Lead study author, Daniel Rosenberg told UConn Today that "this study shows that walnuts may also act as a probiotic to make the colon healthy, which in turn offers protection against colon tumors."
The vitamin E and omega-3 to omega-6 fats found in walnuts may have played a role in these results, but these little nuts aren't the only food that keeps your gut healthy. Choosing foods that fall into one of two categories—prebiotics or probiotics—is the secret to maintaining a healthy balance of good bacteria. Here are some delicious ways to get a good dose of both.
Prebiotic Foods
Prebiotics are non-digestible parts of your food that gut bacteria actually uses as a kind of fertilizer or fuel. Learn more about prebiotics and how they are different than probiotics.
Onions: Caramelize some in-season spring onions and put on some grilled chicken or a lean steak. You can also pickle them to add to tacos or a salad.
Asparagus: Whether you enjoy asparagus grilled, steamed, or in a chilled soup, this versatile veggie will help get that good bacteria growing.
Whole wheat foods: Fiber is the preferred fuel for beneficial gut bacteria, so choose whole wheat bread as a base for avocado toast.
Probiotic Foods
Probiotics contain the good bacteria to help create a healthy and balanced gut and digestive system. (Did you know that Your Gut Bacteria Can Help You Drop Pounds?)
Yogurt: Whether you prefer your yogurt plain Greek-style or loaded with fresh fruit in a parfait, choose varieties that contain 'live active cultures' on the label for the most benefits.
Kimchi: This staple of Korean cuisine does more than add a kick to fried rice or lettuce wraps. The tangy acidic flavor is evidence of bacteria hard at work.
Kefir: Those shot-sized bottles of kefir in the dairy aisle have big benefits for gut health. They contain live bacteria cultures and beneficial yeast that makes your gut happy.