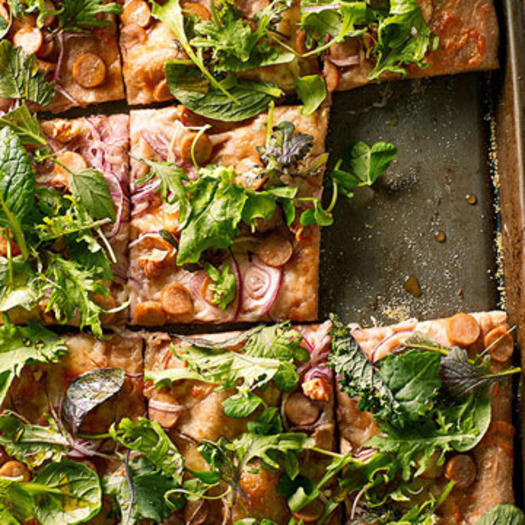 Forget the delivery dude. These easy pizza recipes ditch the grease and amp up the flavor with good-for-you ingredients, making them perfect for your next get-together.
Maple-Walnut Pizza with Chicken Sausage
When you need to satisfy that sausage craving, opt for the chicken variety over pork to cut calories and fat. And make sure your cheese doesn't have less than 33 percent fat to avoid a rubbery texture and get that oh-so-gooey one.
Makes: 6 servings
Prep: 15 mins
Total Time: 35 mins
Chickpea Pizza with Sausage and Peppers
For a Mediterranean twist, opt for chickpea flour. Unlike the wheat kind, it's gluten-free and packed with protein. Plus it makes a crispy crust, so it's way easier to prep than regular pizza dough.
Makes: 4 servings
Prep: 30 mins
Total Time: 45 mins
Strawberry-Bacon Pizza
Because who are we to deny you bacon? Pair it with fresh strawberries for a sweet-and-savory combo you'll fall for fast.
Makes: 4 servings
Prep: 20 mins
Cook: 30 mins