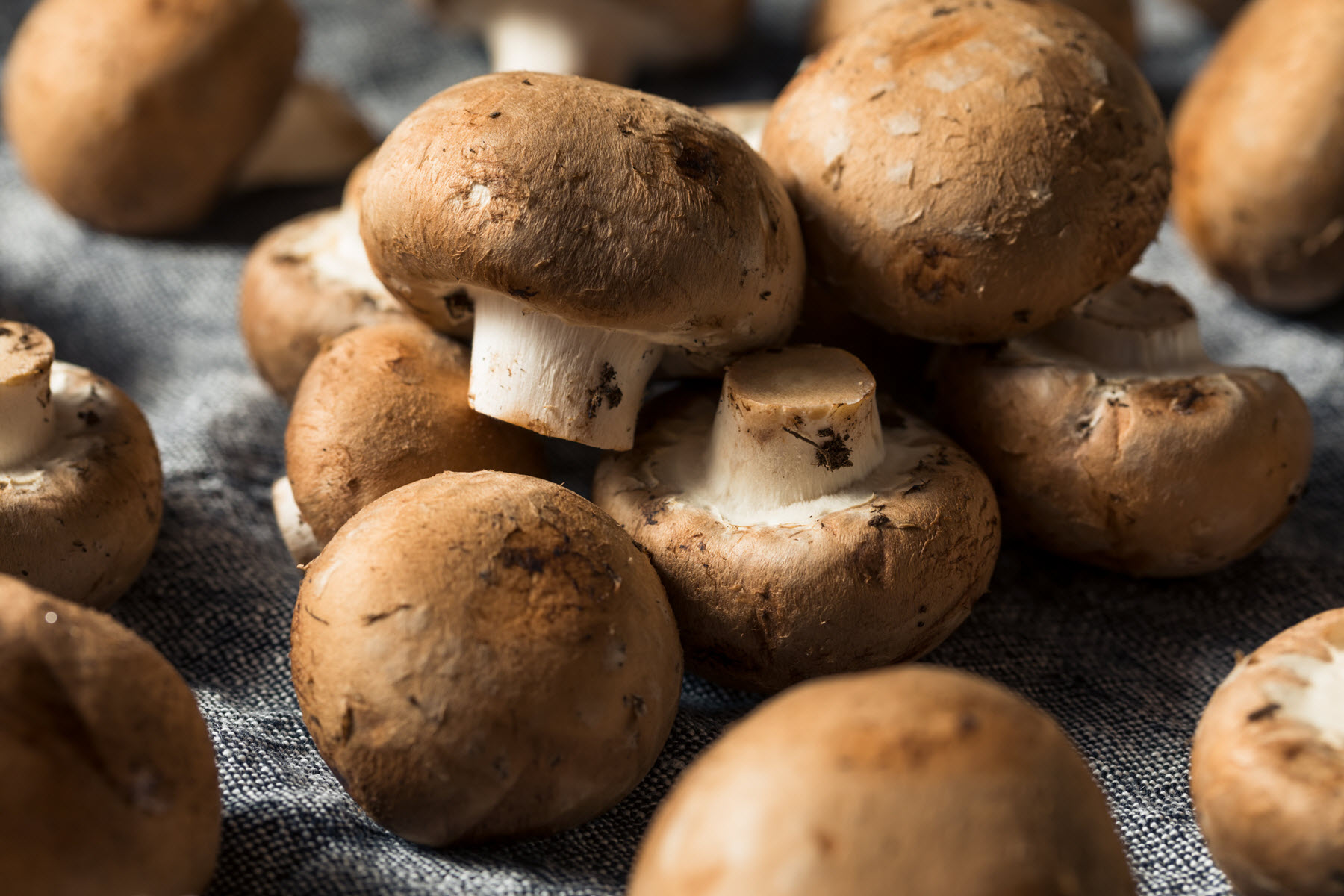 Mushrooms are a great example of "don't judge a book by its cover." Yes, they're a fungi. And sure, some varieties look like something out of a Dr. Seuss story. But mushrooms deserve to be tossed into your shopping cart and added to meals a lot more often (not just ordered on pizza, though that's yummy too!). Here are six reasons why:
1. They're provide vitamin D: Mushrooms are the only produce item that delivers vitamin D, a nutrient that's not easy to come by in many commonly eaten foods. That's because mushrooms can make vitamin D when exposed to UV light. For instance, one portabella mushroom treated with UV light contains more than 100% of the Daily Value for vitamin D. Check the Nutrition Facts Panel for vitamin D content on portabella, white button, and brown cremini mushrooms ("baby bellas"). These varieties are more likely to be treated.
2. They taste meaty: The flavor of mushrooms has been described as "umami," a Japanese word meaning "pleasant savory taste," that's referred to as the fifth taste sense. Portabella (and cremini) mushrooms have a meatier flavor, though the milder flavor of white button deepens with cooking. Portabella mushrooms also have a meaty texture, which is why you'll see them grilled whole or served on buns in place of meat burgers.
3. They're high in selenium: Mushrooms are one of the richest sources of selenium in the produce aisle. That's a mineral that works like an antioxidant in your body, guarding cells against the kind of damage that can lead to disease. Selenium also plays a role in the immune system.
4. They vanish into ground meat: With their meaty taste and texture and ability to disappear into ground meat, they're the perfect way to cut back on the amount of ground beef (or ground pork, chicken, or turkey) you use in recipes. With this trick, you'll also reduce the number of calories and fat in your recipe too. (Here's my recipe for Freezer-Friendly Beef Burritos that stretches ground beef with white button mushrooms.)
Keep in mind these ratio recommendations while you're cooking:
Burgers and meatloaf: Use 25% mushrooms to 75% ground meat
Tacos: Use 50% each mushrooms and ground meat
Pasta sauces: Use 70% mushrooms to 30% ground meat
5. They may help with weight loss: Mushrooms are extremely low in calories. There are only about 20 calories in a serving of five white button mushrooms or one whole portabella mushroom! Yet mushrooms are also satisfying. In one study published in the journal Appetite, people who swapped mushrooms for meat at lunch reduced the amount of calories and fat they took in, but they reported feeling just as full and satisfied as those who ate meat.
6. They're a sustainable crop: Mushrooms are grown in trays indoors and don't require sunlight, farmland, or very much water. When you eat them in place of meat — or blend them so you're eating less meat — you're also lowering the overall carbon footprint of your meals.