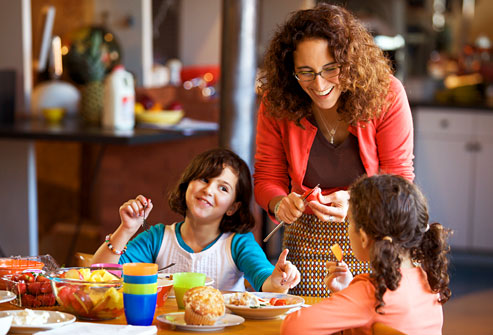 6:30 a.m. Fuel Up First Thing
If you're just waking up, you probably haven't eaten in at least 10 hours. Don't head out before fueling up! A healthy breakfast can give you and your kids a sharper mind, more energy, and better total nutrition for the day. A balanced breakfast includes protein, carbs, and fiber. Try spreading peanut butter or melted low-fat cheese on a whole-wheat English muffin.
7 a.m. Get Moving
Before heading out for the day, take a brisk 30-minute walk around your neighborhood. You'll feel invigorated, and you'll chip away at the 150 minutes of moderate-intensity activity that we need every week. Morning exercise may help you lower your blood pressure and daily levels of triglycerides (unhealthy fats) in your system. As a bonus, you may sleep better at night, too.
7:30 a.m. Protect Your Skin
Don't leave home without it — sunscreen, that is. Sunscreen isn't just for the beach and the summer. Even in winter — and even when it's cloudy — UV rays can penetrate and sear your skin, particularly exposed areas like faces, ears, and the backs of the hands. Those are the areas dermatologists treat most for skin cancer.
7:45 a.m. Travel Light
Overloaded backpacks and purses can strain or injure muscles in the neck, shoulders, and back. Backpacks shouldn't contain more than 10% to 15% of the wearer's weight. Look for one with wide padded straps. Wear it on both shoulders to distribute weight evenly. Look for lightweight purses, briefcases, and totes, and pack only what you need. Alternate shoulders or the hand you carry it in. You can also try a wheeled bag and roll it on the ground.
8 a.m. Get More from Your Commute
Do you live within a couple of miles of work or school? Then ditch the car and try a walking commute. You'll save on gas, keep the environment cleaner, and start your day with a healthy glow. Be sure to wear supportive walking shoes. If you have to use a car, drivers and passengers — even kids in school buses — should buckle up or use an appropriate car seat, no matter how short the trip.
10:30 a.m. Snack Smart
Dump the doughnut tray before your next office meeting! Instead, serve healthier options like fresh fruit platters, mini muffins, whole-grain bagels, or yogurt. Maybe you don't need to serve food at your meeting at all. Maybe you can motivate your colleagues to attend by another method.