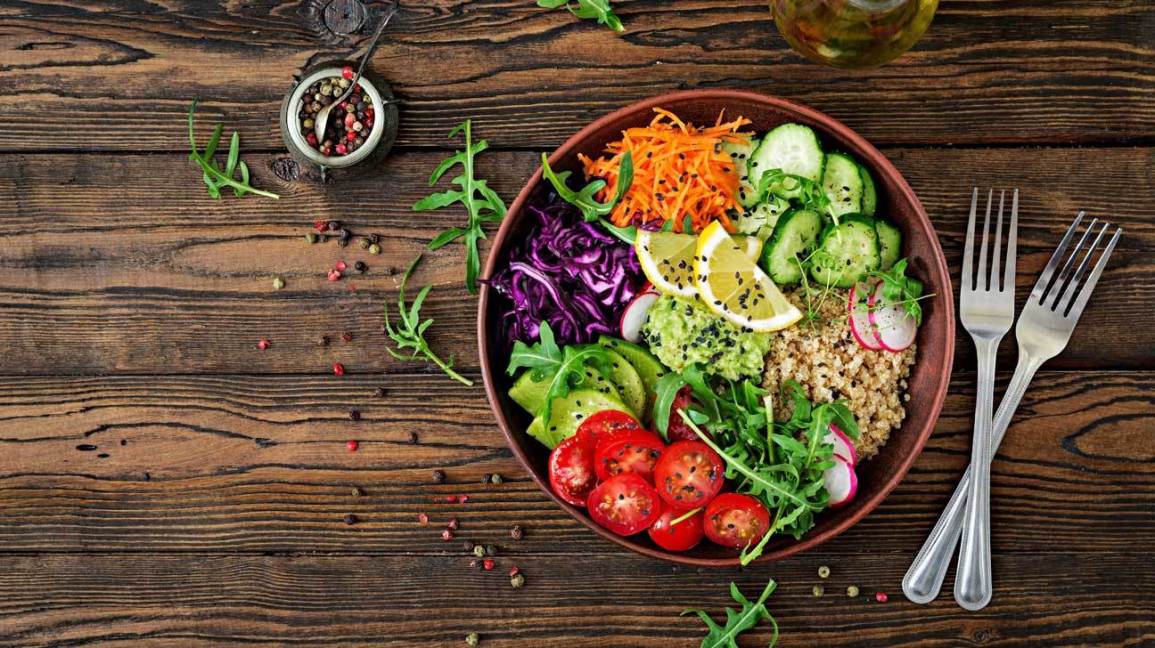 The simplest definition of vegetarianism is a diet free of meat, fish, and fowl flesh. But eating habits of vegetarians cover a wide spectrum. At one end are lacto-ovo vegetarians, who avoid animal flesh but eat eggs and milk products. At the other end are vegans, who forgo eating (and often wearing) all animal-based products, including honey. Raw foodists are vegans who eat mainly raw fruits, vegetables, legumes, sprouts, and nuts.
There are also pescatarians, who eat fish and seafood; and lacto-vegetarians, who eat dairy products but not eggs. Fruitarians follow a diet that includes fruits, nuts, seeds, and other plant food. Those who follow a macrobiotic diet eat mostly grains but can also eat fish. They don't necessarily identify as vegetarians.
Flexitarians refer to vegetarians who occasionally eat meat and fish.
Reasons for Becoming a Vegetarian
Many adherents of vegetarianism and veganism – former Beatle Paul McCartney and actor Alec Baldwin are two celebrities who happily promote the cause — regard a flesh-free diet not only as more healthful, but as a more ethical way to live. They point to the cruel practices and the high environmental cost of raising animals for food as reasons for excluding meat from the diet.
Most Americans, however, continue to eat some form of meat or fish. Five percent of people consider themselves to be vegetarians, according to a 2018 Gallup poll.
Vegetarianism and Health
Most doctors and nutritionists agree that a low-fat diet high in fruits, vegetables, and nuts can be a boon to health. There's also research suggesting that reducing or eliminating red meat from the diet may cut your risk of heart disease.
Research also has shown that a vegan or vegetarian diet may lower your risk of getting type 2 diabetes. And a 2011 study found that vegetarians had lower triglycerides, glucose levels, blood pressure, and body mass index (BMI).
Does Being a Vegetarian Lower Cancer Risk?
It's difficult to say whether being a vegetarian or a vegan lowers cancer risk. This is mainly because of the diversity within the vegetarian population.
Many studies of the cancer-vegetarian relationship conclude that diets rich in fiber, vitamins, minerals, isoflavones (found in soybeans, chickpeas, peanuts, and more), and carotenoids (found in carrots, sweet potatoes, broccoli, kale, spinach, tomatoes, red peppers, and more), seem to protect against disease, including cancer, when part of a health-conscious lifestyle.
An 11-year study in Germany examined colon cancer among 1,900 vegetarians. Researchers noted fewer deaths from cancers of the stomach, colon, and lung in study participants than in the general population — particularly among those who practiced some form of vegetarianism for at least 20 years. They suggested, however, that other factors, like body weight and amount of exercise, likely affected mortality rates in the vegetarians they studied.