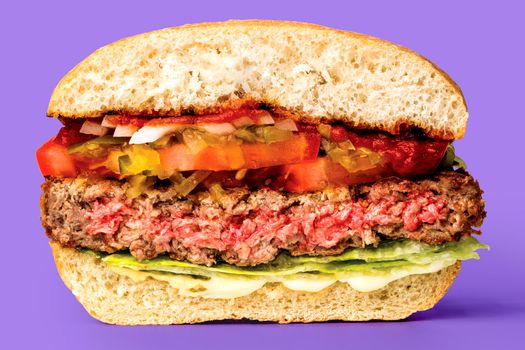 This is not a real surprise, given the growth in popularity of plant-based eating during the COVID-19 pandemic.
Plant-based food sales were up 27% in 2020, topping $7 billion, according to the Plant Based Foods Association.
"In 2020, 57% of all U.S. households purchased plant-based foods (that's over 71 million households), up from 53% in 2019," the association says.
The spike in popularity is largely due to weight issues many people had during lockdown, says Neal Barnard, MD, president of the Physicians Committee for Responsible Medicine and an adjunct professor at George Washington University School of Medicine.
"Many people gained weight during the pandemic," he says.
They were stuck at home with the refrigerator or pantry nearby. For some, weight gain led to change.
"They were looking to get healthy. In addition, they had time to read and look at health information, which they might have been neglecting before," Barnard says
Major companies are taking heed.
McDonald's announced a new plant-based line in 2020. The first item being debuted is a plant-based burger called the McPlant. The company teamed up with Beyond Meat to make its plant-based patty, which the restaurant chain says will be cooked on a separate grill and with separate utensils from its meat-based products.
McDonald's tested the McPlant in a limited number of restaurants in Sweden and Denmark beginning early this year. The company recently announced that the McPlant will be tested in select restaurants in the U.K. and Ireland starting at the end of September.
Vegan cheese and vegan sandwich sauce options will also be available, according to the company.
McDonald's has not announced plans to test the McPlant in U.S. markets.
In August, Chipotle launched a limited-edition organic protein option, Plant-Based Chorizo, which is being tested in Denver and Indianapolis, confirms Stephanie Perdue, vice president of brand marketing at Chipotle.
"Plant-based lifestyles have continued to accelerate in popularity, so we see a massive opportunity to bring more vegetables to the center of the plate like we're doing with Plant-Based Chorizo," she says.
Taco Bell has been in the plant game for years. The company has over 30 vegetarian menu options. Its most recent plant-based venture is also a partnership with Beyond Meat.
"Taco Bell remains excited about teaming up with Beyond Meat to create a new, innovative plant-based protein, something not quite yet seen in the industry. Details on specific timing and market(s) to come," Taco Bell says.
Major retailers are also jumping on board. In the spring, Target unveiled a plant-based line called Good & Gather Plant Based.
The line includes items like plant-based creamers and meat alternatives, with all items under $8 and most under $5.
Major grocery store chains, too, are showcasing not-meat alternatives. In many, including Kroger, Beyond Meat and Impossible Burger products are in the meat section, right next to ground beef, steaks and chicken.
And traditional meat producers are getting in on the game, as well. Hormel, Tyson, Smithfield and Perdue all have their own plant-based products, as the big firms look to capture both sides of the growing market.
Companies debuting plant-based products is a great trend, says Barnard.
"They're doing it because there's consumer demand, but from the health standpoint, it's a good change," he says.
"These products don't have cholesterol, animal fat, hormones in them, which, say, cow's milk does."