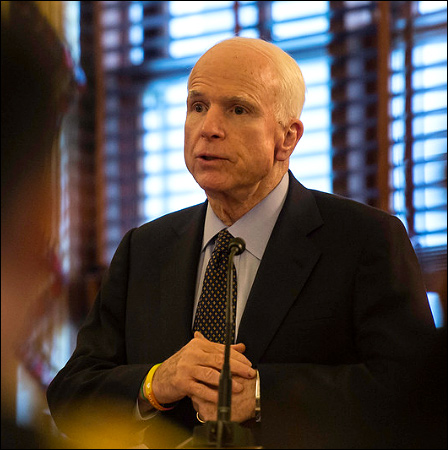 By Dr. Sudip Bose, MD, FACEP, FAAEM
It's pretty rare that I see someone with symptoms like those of Arizona Sen. John McCain, who went into the hospital last week to have what his docs diagnosed as a blood clot above his left eye removed. It's the same side of the senator's face where he had several surgeries to remove patches of melanoma – a type of skin cancer that if not treated can be deadly. Sen. McCain had his melanoma taken care of and all was good. But his doctors were in for a surprise when they saw the blood clot and abnormal tissue above it. The lab confirmed what the doctors suspected and Sen. McCain learned not only did he have a blood clot, but he also had primary glioblastoma, a very aggressive type of brain cancer. It is the most recent blow to a man who has had a history stretching back some 50 years to the Vietnam War of having to fight through some very serious physical ailments.
It's not often that I encounter a situation in the ER where I'm diagnosing a glioblastoma, but when I'm presented with a serious condition like that in the ER, it's immediately humbling and I have instant empathy for the patient. It's not easy to deliver a diagnosis like that. You want to be as positive as possible, but you also understand the reality of what your patient is facing. The statistics are daunting.
Glioblastoma, or GBM, tumors are usually highly malignant. The tumor cells usually reproduce very quickly and are fed by a large network of blood vessels. The American Brain Tumor Association says, "Because these tumors come from normal brain cells, it is easy for them to invade and live within normal brain tissue."
Treatment can help, but the condition can't be cured. Statistically, with this kind of tumor, survival rates beyond a year and a half are uncommon. Median survival time upon first diagnosis of GBM is in the 14- to 16-month range. There are some longer-term survivors, but this type of cancer is an aggressive form, and it's usually more extensively present in the brain than the initial diagnosis indicates.
Continue reading "Arizona Sen. John McCain's Glioblastoma Diagnosis"