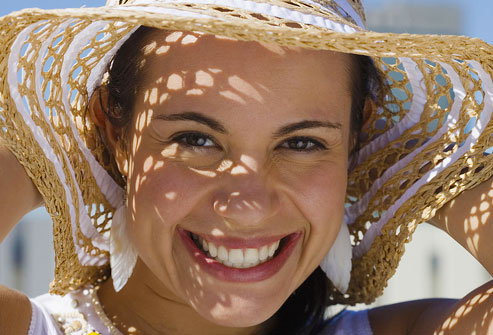 Practice Good Skin Care Basics
If you really want to keep your skin looking young, start with the essentials:
Avoid the sun.
Wear a broad spectrum sunscreen.
Wear sun protective clothing (long sleeves and pants).
Don't smoke.
Use moisturizer.
Sleep on Your Back
When you sleep in certain positions night after night, it leads to "sleep lines" — wrinkles that become etched into the top layers of skin and don't fade once you're up. Sleeping on your side leads to wrinkles on cheeks and chin, while sleeping face down gives you a furrowed brow.
Eat More Salmon
Salmon (along with other cold-water fish) is a great source of protein, one of the building blocks of great skin. It also has plenty of omega-3 fatty acids. Experts say essential fatty acids nourish skin and keep it plump and youthful, and that can help minimize wrinkles.
Don't Squint — Get Reading Glasses!
Any facial expression that you do over and over (like squinting) overworks facial muscles and makes grooves beneath the skin's surface. Eventually those grooves become wrinkles. So keep those eyes wide: Wear reading glasses if you need them. And get savvy about sunglasses. They can protect skin around the eyes from sun damage and keep you from squinting.